Here's a little glimpse into my last trimester of pregnancy and my postpartum recovery journey. I've learned a lot during and after pregnancy with the main lesson being: the human body is amazing!
Full Disclaimer: this blog is NOT intended to be a prescription for return to Crossift postpartum. Everyone's recovery will vary tremendously as a result of MULTIPLE different factors such as pre-pregnancy fitness levels, age, weight, pelvic floor strength, core stability, and vaginal vs cesarean deliveries to name a FEW. This is just MY experience and how I progressed back to CrossFit. I fully recommend seeking help and direction from an experienced rehab professional for detailed guidelines specific to yourself before trying any of this on your own. This will prevent speed bumps in recovery and future complications from arising!
Not much changed during the third trimester, except for maybe my belly size! I was blessed with a fairly easy pregnancy from what I've heard. As far as workouts went, I still continued to workout daily and stuck to my aforementioned modifications (mentioned in my previous blog). I continued box jumps and double unders. I made sure I was being safe (I had no doubts that I could clear the box) and I listened to my body (no leaking or increased pressure). The "stacked" position while performing double unders helps a lot!
**check out our instagram post to see what exactly this "stacked" position is**
During the 3rd trimester, I didn't max out on any lifts, although I did PR my 3 rep front squat. And no, I didn't pee myself, wear a belt, or strain too hard to do it. It just felt good that day! Double dumbbell or heavy thrusters became more difficult for me to control my core so I usually only used one dumbbell or a lighter weight for thrusters. I actually stopped doing handstand push ups, not because it was unsafe, but because they got really hard the heavier I got. As a substitution, I did single arm overhead presses. I did end up rowing a couple times because I got tired of biking, but I just didn't lean back at the end of the pull in order to prevent my core from coning.
In general, extracurriculars were a bit more challenging. My husband and I like to spend a lot of time outdoors with our friends so we planned a trip to the mountains around week 34. We went tubing down a shallow creek and in order to not get slammed by rocks, I'd have to lift my body up out of my tube, which was really difficult to do without coning. My friend ended up switching tubes with me (his had a net bottom and back support) which helped tremendously! Hiking was a bit more difficult because I was basically wearing a weight vest. The trail we picked ended up having a lot of actual rock climbing and uphill/uneven ground so I was REALLY fatigued. We did about 4-5miles and even those who weren't pregnant were exhausted.
---
Fun fact: my fingers started tingling after writing a lot of thank you cards after our baby showers, but the doctor said that was normal and it was just swelling in my hands that mimics carpal tunnel. It would get worse being at work and performing a lot of hands on work on athletes. I would also sometimes wake up with that same numbness, but as long as I kept my wrist neutral, as opposed to bent, it would be fine. (All of this has completely subsided now that I'm not pregnant) As my due date approached, I felt like the doctors started trying to scare me into an induction. I really preferred to have my baby naturally, even without an epidural, so the thought of an induction didn't sit right with me. They kept telling me the risk of stillbirth, C-sections, and complications continue to increase the longer we wait. At 39 weeks, for the health of my baby, I decided to go ahead and schedule the induction for 41 weeks. I wanted to give my body a chance to go into labor on its own. ​
The week of my due date, I tried everything I could to make her arrive without the induction. My OBGYN did a membrane sweep at 39 weeks + 2 days. She said it should help me go into labor in 24-48 hours. It didn't. I walked for 2 hours that night and did some deep air squats. That didn't work either. I ate Hawthorne's "The Inducer" pizza two nights in a row..still didn't work. I tried hot wings and other spicy foods. I even went and got a pedicure because I heard that was supposed to help. Eventually, Saturday night, the day before I was due, I started experiencing labor pains. I ended up having baby Harper right on time, September 19th at 5:15 in the morning, without an induction and without an epidural..ouch! She was 6 pounds, 6 ounces, and had a head full of hair!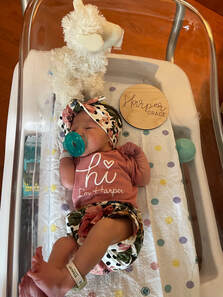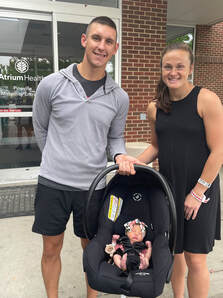 The doctors told me not to workout for 6 weeks and with how sore I was directly after, I agreed! But as the days went by with me just sitting on the couch, I started to get all kinds of aches and pains in my low back and neck and just became uncomfortable. I soon decided that I just needed to MOVE! I started walking around the neighborhood 3 days later and then 4 days after I gave birth, I went to the gym. Yes, the gym. I skied very lightly because the idea of sitting on a bike or rower seemed uncomfortable. I did some slow air squats, slam balls, and light kettlebell deadlifts. It felt great to move again!
---
I continued to go to the gym daily, but for the first couple of weeks, I did my own workouts or modified the one that was programmed. I started back jogging pretty soon after delivery and it felt great! I kept weights pretty light and didn't do any rig or core work and especially no jumping. However, I did start incorporating some simple core stability exercises like lying on my back while holding my legs 6 inches off the ground, controlled sit ups, and hanging from the rig to name a few. ​Return to Rig Work (ie. toes to bar, butterfly pull ups, bar muscle ups)

My return to the rig had a couple of progressions. I started with hanging from the rig and controlled (from a breathing and coning prevention standpoint) sit ups on the ground. Once those became easier, I started to incorporate some controlled hanging knee raises. I did this for a couple of weeks until I started to add a small kip and some momentum to the knee raises. It took about a month for me to feel comfortable enough/ready to do that and then I eventually worked my way up to toes-to-bar.
Videoing all of my progressions on my phone was a HUGE help to myself! With some of these movements, it became difficult to watch and make sure everything was functioning the way it needed to, so being able to watch it back directly after helped tremendously!
At about 1.5 months postpartum, I tried some small butterfly pull ups which actually looked (from a coning perspective) and felt really good. It took about 2 months for me to feel comfortable/confident enough to try out bar muscle ups. But once I did, they ended up being successful. My kip felt awful from not doing them for months, but each time I did them, they felt better and better.
Return to Jumping
As my body continued to heal and feel more normal again, I progressed the exercises and weights. I was able to perform box jumps at about a month postpartum, but rebounding took just a little bit longer. The repetitive jumping increased the risk of leakage. Also at about a month postpartum, I tried out some light hops in place in order to test out jumping rope. My body wasn't quite ready at that point. After that, for the next couple of weeks, I kept testing them out periodically and eventually tried out single unders as they continued to be successful (no leakage). At 2.5 months postpartum, I did double unders in a workout. The workout was a 14 min AMRAP (as many rounds/reps as possible) of 21 double unders, 12 single arm dumbbell hang clean and jerks, and 9 toes to bar. The focus of this workout for me wasn't how fast I could go, but how successful I could be at the double unders. I started off by keeping in mind that "stacked" position I mentioned previously and broke the double unders up into 2 sets. By the end of the 14 minutes, I was able to perform all 21 reps without issue!
Fun fact: I have been and still am breastfeeding my baby while working out at a high intensity and have not had any change in milk supply. We've had check ups and have visited her pediatrician who says she's growing perfectly and is getting enough to eat!I'm now currently at 3 months postpartum and am 95% unlimited in the gym. I am back handstand walking, performing butterfly chest to bar, strict and kipping handstand push ups, and doing bar/ring muscle ups. I am still not 100% back to double unders, but I understand this will take time, especially since I had a vaginal delivery. Typically vaginal deliveries have a longer "return to jumping/running" time period while cesarean deliveries have a longer "return to core work" recovery period. I also haven't tried GHDs yet because they seem too advanced for me at this point, but I've been AMAZED at how quickly I was able to return to some of these activities and how good I've been feeling while doing them.
While postpartum recovery is a journey in itself, so is returning to a sport or activity you love! It's never too late to rehab the effects of pregnancy and you don't have to do it on your own! Whether you just had a baby or if your child is 10 years old, there's likely something that can be done! If you're looking for guidance, even if you're one of the moms that is STILL struggling with double unders and leaking multiple years after giving birth, don't hesitate to reach out! We are Charlotte's BEST sports physical therapists. You don't have to suffer or avoid movements forever!
If you have a question for me – leave a comment below or click here! If you're interested in working with me, the next step is a free phone consult so we can learn more about your specific situation! LASTLY – don't forget to check out Part 1: My 1st Trimester, Part 2: My 2nd Trimester, my Post Partum blog, and Baby Number 2 Thoughts!! See y'all in the next one!

​Thanks for reading!
– Aerial B.